N

ational

A

ssociation of

A

dult

S

urvivors of

C

hild

A

buse





National Association of Adult Survivors of Child Abuse



~~~~~~~~~~~~~~~~~~~~~~~~~~~~~~~~~~~~~~~~~~~~~~

NAASCA
------------------------------------------------------------------------
Back to Business !!

It's time to get back out there .. in public !

We have a single purpose at NAASCA, to address issues related to childhood abuse and trauma including sexual assault, violent or physical abuse, emotional traumas and neglect .. and we do so with only two goals:

1) educating the public, especially as related to helping society get over its taboo of discussing childhood sexual abuse (CSA), presenting facts showing child abuse to be a pandemic, worldwide problem that affects everyone

2) offering hope and healing through numerous paths, providing many services to adult survivors of child abuse and information for anyone interested in the many issues involving prevention, intervention and recovery
Bill Murray


NAASCA founder / CEO

Back To Business



Now that we're beginning to build the new norm, and heal from how COVID-19 has touched each and every one of our lives, I'm hoping it's possible that we'll start to pick up on some 'Calendar of Events' items for this spring and summer.

I'm excited to write this article encouraging our NAASCA family members to get 'Back to Business'. And by 'business' I mean gathering together in a way we've been unable to do so for a year and a half.

We need to re-establish live, in-person events. Remember, educating the public is fully half our mission (see above), and at live events we often get the chance to reach others, including newcomers, the second half of our mission.

As the pandemic begins to wind down, and restrictions are relaxed, it'll start to be possible for NAASCA members to go back to holding events again .. depending on any remaining local regulations.

So .. let's get back out there!

I'm using the fact that I've been invited to speak at a group gathering here in my area in an open-air park to encourage other folks to think about planning and holding various child abuse awareness and educational events .. starting now.
We might see speaking events, rallies, marches and demonstrations, seminars and workshops designed to once again carry the message and educate the public in forums we've not been able to enjoy in quite some time. We might see tabling and fund raisers at supermarkets, churches, schools and universities, or even evening vigils.

My belief is there's no better way to reach people than face to face and shoulder to shoulder. I would love to see our NAASCA Family back out there in the mission fields, reaching those in need and educating the public.

Here are some downloadable NAASCA tools one can use to help promote an event and to distribute during it:


Here are some NAASCA products one can order through Vista Print (at their costs) that can be really helpful, for decoration and fund raising:


Promotional Tools
Order small, medium and large items that'll really make a difference to the look of your space, and in hand out things that carry the NAASCA logo and message.
- personalized NAASCA business cards
- pens and refrigerator magnets
- tri-folds with stats, mission, etc
- coffee mugs, t-shirts and hats
- tote bags and tablecloths
- tabletop signs, 2 sided table top tents
- banners and posters



Let us know what you're doing!



By all means, let us know about your events well ahead of time so that we can add them to your state's 'Calendar of Events'. Just get the details to us as early as you can, by writing to Carolin O'Hara in London, England: maudnmildred@hotmail.com

Then take some pictures and white up a description of the result. Send the results to Pamela Lockridge in Louisiana: lock14@bellsouth.net

We'll promote some of these to encourage others to hold events!
---
~~~~~~~~~~~~~~~~~~~~~~~

The "Children of One Planet" Foundation promotes the well-being and health of
s children from all over the world

Come meet me on Saturday !!



The event I'll be at on Saturday, June 12, will be held at 568 Mount Curve Ave, Altadena, CA, 91001, from 10am to 1:00pm, for a non profit group known as 'Children of One Planet'. Altadena is a town just north of Pasadena.

Here's their Facebook page:
https://www.facebook.com/ChildrenofOnePlanet/

The event, the 'Children of One Planet' talk, is at:

Farnsworth Park
568 Mount Curve Ave, Altadena, CA 91001
Here is a map to the park where the event is being held:
Farnsworth Park - https://tinyurl.com/4y3st5v4

The contact person is:
Azita Milanian
azita.childrenofone@gmail.com
626 / 712-3451
https://www.facebook.com/azita.milanian

The "Children of One Planet" Foundation is a non-profit organization that promotes the well-being and health of children from all over the world.
Here is their web site:
http://www.childrenofoneplanet.org/

Come by and meet me !! I'll be there and happy to see you !!



Carol Levine

speaks at a university

Again, take some pictures and white up a description of the result of your events. Send the results to:

Pamela Lockridge in Louisiana:
lock14@bellsouth.net

We'll use some of your descriptions and pictures to encourage others to hold events!

Thanking you once again for all you do for our NAASCA family, I am,

Yours in love and service,

Bill

xoxoxoxoxoxoxoxxox

Bmurray3rd@aol.com
323 / 552-6150

Adult Survivor web site
www.NAASCA.org

Talk show home page
www.BlogTalkRadio.com/NAASCA

~~~~~~~~~~~~~~~~~~~~~~~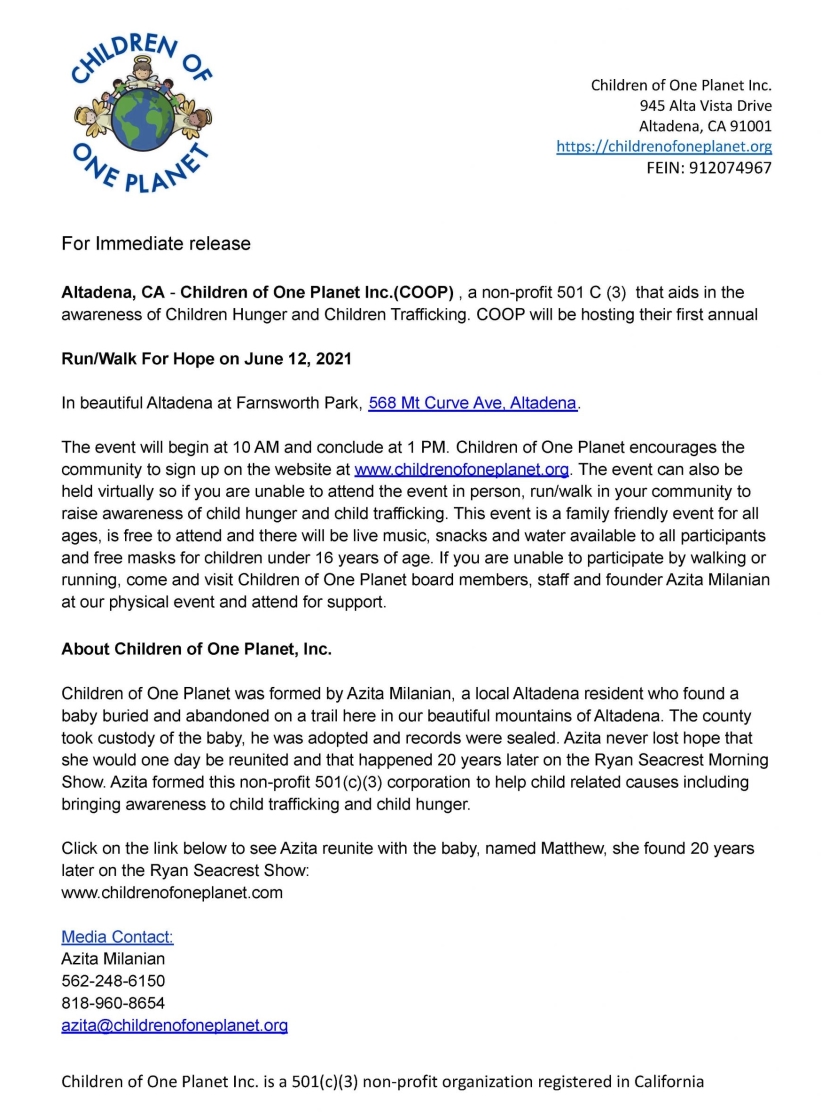 ~~~~~~~~~~~~~~~~~~~~~~~