N

ational

A

ssociation of

A

dult

S

urvivors of

C

hild

A

buse



National Association of Adult Survivors of Child Abuse



~~~~~~~~~~~~~~~~~~~~~~~~~~~~~~~~~~~~~~~~~~~~~~

NAASCA Highlights

EDITOR'S NOTE: Occasionally we bring you articles from local newspapers, web sites and other sources that constitute but a small percentage of the information available to those who are interested in the issues of child abuse and recovery from it.

We also present original articles we hope will inform the community ...
HOME


why we started this site

RECOVERY




together we can heal

RESOURCES




help stop child abuse

CONTACT




join us, get involved
.
MALE ABUSE AWARENESS WEEK



by Bill Murray

Its male abuse awareness week, and we'll be centering our celebration of it on a LIVE ON LOCATION broadcast from San Diego on Monday night (starts at a special time, 9pm EST, so 6pm PAC). The sold out event is a fundraiser for the host organization, the PLunaFoundation, where the primary interest is in helping young men ages 18 to 35 (Help4Guys.org). Donations collected are devoted to off-setting the cost of Internet-based counselling with therapists who interact with these men over SKYPE. Following the broadcast, I've been asked to appear as the Keynote speaker. I'm delighted to do this, and we look forward to future ON LOCATION shows and speaking engagements across the country.

To listen to the "on-demand" pod cast of the show, recorded LIVE on Dec 5th in San Diego, CLICK HERE

BROADCASTING

Monday night


LIVE - San Diego


9pm EST (8 CEN,
7 MTN, 6 PAC)

NAASCA celebrates Male Abuse Awareness Week


Dec 1st to Dec 8th



The National Association of Adult Survivors of Child Abuse is planning numerous events in celebration of Male Abuse Awareness Week, Dec 1 to 8.

Among them will be an appearance by our founder, Bill Murray, at the Monday, December 5th, Petra Luna Foundation's gathering in San Diego, CA.


That evening we'll produce a special, LIVE, on-scene "Stop Child Abuse Now" (SCAN) Internet-based talk radio show during the event. Our host, Bill Murray, will transmit from the venue, and will interview people who attend the fundraiser, including Petra Luna, the foundation's founder and event creator.

Following the talk show, Bill will be the main Guest Speaker at the event, addressing those gathered about the need to pay attention to at-risk youth, but especially boys.

As Male Abuse Awareness Week approaches, we'll devote several of our SCAN radio shows to promoting the need to educate, protect and help young males. We'll have special guests talking about the cause.



The P. Luna Foundation fights child abuse by creating innovative programs to educate, aid law enforcement, and build awareness about the growing epidemic of child abuse and exploitation with an emphasis on young males who have been abused.

It aspires to end the anonymity of child sexual predators and to prevent future abuse through intellect, logic and virtue. Male Abuse Awareness Week is an awareness campaign held every year from Dec 1st through 8th, and the web site at www.help4guys.org is the extension of that program.

It is a program dedicated to the special needs of young boys and men who have been abused, in an attempt to stop these young males from growing up to abuse others and repeat the cycle of abuse.

------------------------------------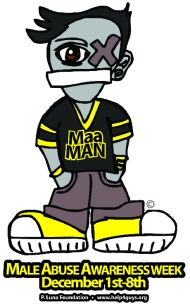 .

www.help4guys.com
www.plunafoundation.com

...
-------------------------------------
.